Welcome to St. Michael's!
Welcome to St. Michael's!
Orthodox Church in America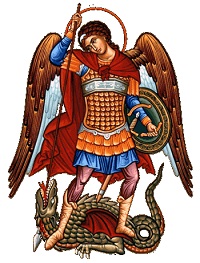 June 4-Sunday Divine Liturgy at 10 AM
Kneeling Vespers Following
(No Matins)
+
Prayers for all our Beloved Reposed
NO FASTING THIS WEEK ON WEDNESDAY & FRIDAY
St. Michael the Archangel Orthodox Church is located at
2425 Olivera Road, Concord, CA 94520.
The mailing address is P.O.Box 728, Concord, CA 94522.

If you need to speak to the Rector
please call Fr. Peter at (415)596-2965
What is the Orthodox Church? It's the original Christian Church founded by Jesus and continued by his Apostles. It is the same Church described in the Bible as the Body of Christ and the Bride of Christ. Throughout its 2000-year history Orthodox Christianity has remained faithful to the teachings and practices passed on from the Apostles and early Church Fathers.
Fr. Peter Fermeglia, Pastor
rector@stmichael.org
(415) 596-2965